For Immediate Release
May 11, 2021
Contact: Gary Wockner, Save The World's Rivers, 970-218-8310
Google Goes 'Anti-Science' With Support For Quebec Hydropower
World's Rivers: Yesterday, Google announced a "major facility in Quebec", investing $735 million in a building and acreage, to take advantage of Quebec's hydropower which Google said would allow it to "run our entire business on clean electricity every hour of every day" (see press story here in the Montreal CTV News).
The announcement comes just days after the non-profit group, North American Megadams Resistance Alliance, hosted a webinar about "dirty" hydropower, including the massive GHG emissions created by hydropower in Quebec. In fact, the largest hydropower reservoir in Quebec, Caniapiscau Reservoir, is estimated to emit twice the GHG emissions compared to a coal-fired powerplant that puts out the same amount of electricity.
The webinar featured Gary Wockner, Director of Save The World's Rivers, who presented the science about GHG emissions from hydropower, relying on peer-reviewed scientific articles over the last decade (the whole webinar is posted here on Youtube, Wockner's presentation is posted here as a pdf). The slide which presents the science of GHG emissions from Quebec hydropower summarizes a report by Dr. Bradford Hager of the Massachusetts Institute of Technology, below:
In the report, five hydropower complexes in Quebec had GHG emissions equal to that of natural gas powerplants, with one — Caniapiscau Reservoir — emitting twice the GHG emissions of a coal-fired powerplant.
The science which measures and estimates GHG emissions from hydropower has been widely accepted for decades. In fact, when you google the exact words "GHG emissions reservoirs", the search returns 206 results.
"Google would benefit from googling before investing its money," said Gary Wockner of Save The World's Rivers. "By using Quebec hydropower, Google's GHG emissions might actually increase, not decrease, due to the dirty electricity being generated in Quebec."
GHG emissions from hydropower projects are mainly caused by vegetation and organic material that emits methane and carbon dioxide as it decomposes in a flooded reservoir.
For well over fifty years in Canada and across the world, hydropower dams have been known to have dramatic negative impacts on river systems, biological diversity, and people. Wockner's presentation included the summary slide below describing those negative impacts: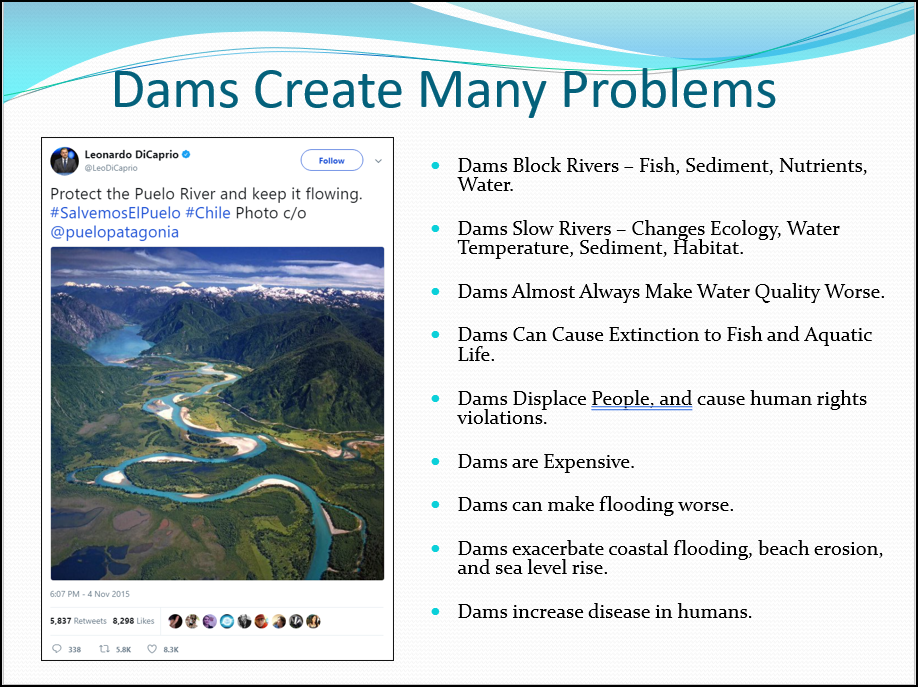 The general google search for "dam problems" returns 150 million results.
"Google's anti-science support for hydropower undermines the company's credibility and will destroy more rivers across the planet," said Wockner. "Rivers are the arteries for the water cycle of the planet which is the life cycle of the planet. Dams block those arteries which ultimately destroys human and non-human life."
Save The World's Rivers is a program of Save The Colorado. This press release is posted here.
###